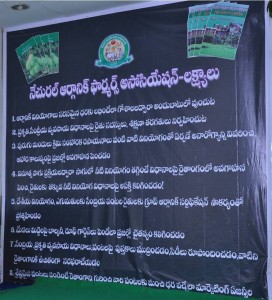 Natural Organic Farmers Association is a not for profit organization promoted by Andhra Chamber Of Commerce And Industry members engaged in establishing models of sustainable agriculture working in partnership with agricultural department and farmers community based organizations by scaling up the successes and engaging with the establishment for policy change. NOFA is registered under societies act in VIJAYAWADA, India.
NOFA promotes organic agriculture and believes in promoting sustainable agricultural techniques that are based on farmers knowledge and skills, their innovation based on local conditions and their use of nature. NOFA works with farmers to conserve their resources and reduce expenses.
NOFA with the association of farmers is putting efforts to acheive above objectives with the help of Sri Subhash Palekar Procedures. Int he process, we have put into motion the following:
NOFA is developing vegetable production in and around VIJAYAWADA. This works include growing Rice, Cotton, Mango and all kinds of vegetable without using chemicals, Establishing village level collection centers and promoting direct marketing in VIJAYAWADA.
The support includes making demo plots at different places and educating the farmers on how to do it and build confidence to start Organic Farming by reducing input costs and improve their health by avoiding spreading of chemical insecticides.
NOFA is promoted by The Andhra Chamber Of Commerce & Industry Federation, Vijayawada, AP, India.
The Andhra Chambers Of Commerce and Industry Federation #40-1-144, 3rd Floor, Corporate Buliding,
Side of Chandana Grand, Old khandari Jn.
M. G. Road, Vijayawada – 10,
Ph. :- +91 866 2482 888, Office Cell:- +91 9440318748,
Email : andhrachambervja@gmail.com
COMMITEE MEMBERS:
COMMITEE MEMBERS

| | | | |
| --- | --- | --- | --- |
| Name | Age | Designation | Address |
| Kadiyala Raghava Rao | 70 | President | Rushi Vatika, Bhargava nagar, Chinna outupalli, Gannavaram |
| Gala Republic Rani | 63 | Vice President | Dno:26-20-, Swami Street, RR Stores, Behind Raj Yuvaraj, Vijayawada |
| Bhirava Rama Raju | 53 | Secretary | Dno:23-15-11, Flat:103, Subhadra manor, G.S.Raju Road, Mutyalampadi, Vijayawada |
| Yadla Venkata Krishna Mohan | 54 | Joint Secretary | Surya Engineering Works, Plot D4/D5, Industrial Estates, Autonagar, Vijayawada |
| Chukkapalli Rama Krishna Prasad | 55 | Treasurer | Dno:60-28-3, Gayatrinagar, Vijayawada. |
OUR SUPPORTERS